6000 Series (1320KW-1680KW)
Product feature:
100% independent intellectual property rights
International mainstream Control Technology (EGS Engine Intelligent Management System))
International advanced air-fuel ratio control technology (TECJET air-fuel ratio automatic regulation)
Large flow and high-pressure intake system can adapt to a wide range of concentration changes
Low-pressure intake and rarefied combustion control technology (suitable for low-pressure gas, better emission)
Advanced Genset management module (IG-NT automatic synchronization and automatic load distribution)
online maintenance technology (continuous trouble-free operation time more than 2500 hours)
Digital monitoring technology (full monitoring of engine thermal parameters and Genset electrical parameters)
Distributed energy system (electric-thermal system, electric-hot-cold system)
Contact Now
Product Details
Specification of 6000 Series
The power range of China's gas engine is mainly from 200kW to 600kW, and the market demand for gas engines above 1000kW is very big. Series 6000 gas engine is a high-power gas engine developed by our company for this situation. Now the series of gas engine power can be up to 1600 kw. It adopts the most advanced technology of air-fuel ratio control, engine performance, fuel economy, reliability and security were greatly improved, and its main performance index has reached the international advanced level, can form a complete set of gas generator and compressor sets, meet the needs of urban and wellsite power supply and compressor markets.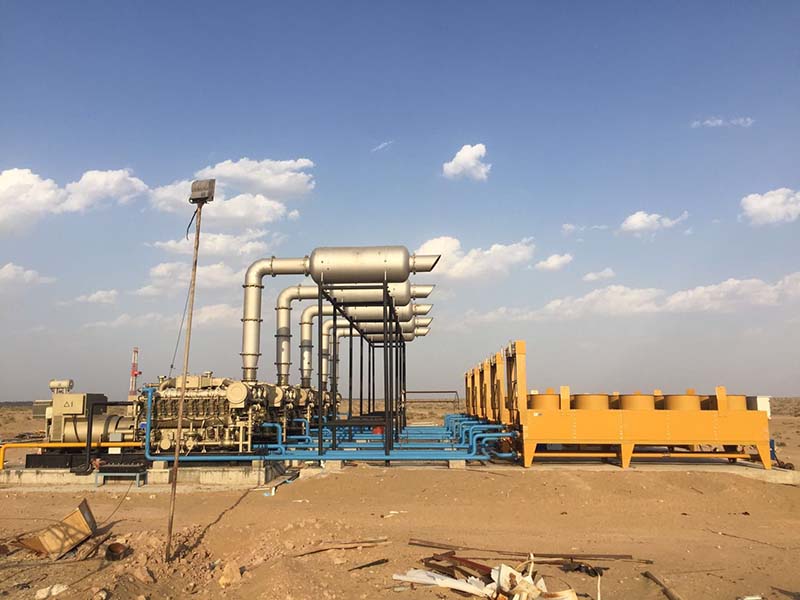 Engine model
Cylinders & Arrangement
Cylinder bbore,mm
Piston stroke,mm
Rated power ,kW
RPM,r/min
Total piston displacement,L
Heat consumption ratekJ/kW.h
Lub. oil consumption rate g/kW.h
Start method
H16V190ZLT-2
16 cylinders V type
190
215
1320
1000
97.53
≤9500
≤1.0
Gas/Electric start
H16V190ZLT-1
1680
1200
Genset Model
Engine model
Alternator model
Power kW
voltage
RPM,r/min
Frequency Hz
Power factor
Dimension mm
Weight kg
1100GF-T
H16V190ZLT-2


1100
400
1000
50
0.8
6520×2180×2540
19800
1100GF1-T
H16V190ZLT-2
JFG Series
1100
10500
1000
6520×2180×2540
20500
1500GF-T
H16V190ZLT-1
1FC Series
1500
480
1200
60


5998×2180×2540
19800
Send your message to CNPC