Jichai launches 750 kW gas generator set
2022/04/25 15:13
On April 18, the company held a product launch conference and officially launched the Jichai 750 kW gas generator set. 
The 750 kW gas generator set is equipped with C12V190 single gas engine. The engine adopts advanced control system,under the same output power, the average effective pressure and explosion pressure are lower, which has the characteristics of high operation safety, strong reliability and long service life; the product uses natural gas, gas, biogas and other clean energy as fuel, and is suitable for distributed energy, pipeline gathering and transportation, gas storage and production increase, gas power generation, biogas power generation and other fields.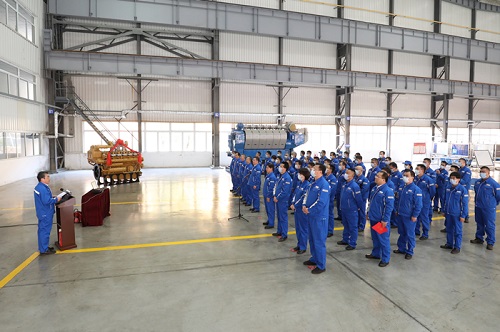 The launch of 750 kW gas generator set has promoted green and low-carbon development.It is hoped that the company's scientific researchers will make persistent efforts to strengthen market connection, give full play to the leading role of science and technology and provide better services for customers.